Tax Hassles Begone! The Maidenhead Personal Tax Accountant That Will Make You Smile
Are you tired of spending countless hours trying to navigate the complexities of personal taxes? Do you find yourself drowning in a sea of forms and calculations every tax season? Look no further! Our experienced team of personal tax accountant in Maidenhead is here to rescue you from all your tax woes and bring a smile back to your face.
Introducing Our Personal Tax Accountant Services
At our Maidenhead accounting firm, we pride ourselves on providing top-notch personal tax accountant services that are tailored to meet your individual needs. Whether you're a busy professional, a small business owner, or a retiree, we have the expertise and knowledge to handle all aspects of your personal taxes efficiently and effectively.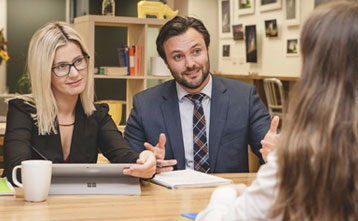 The Benefits of Hiring a Personal Tax Accountant
Many individuals believe they can handle their taxes on their own or rely on online tax software. However, there are numerous benefits to hiring a qualified personal tax accountant:
Expertise: Our tax accountants have extensive knowledge of the ever-changing tax laws and regulations. They stay up-to-date with the latest changes to ensure you take advantage of all available deductions and credits, minimizing your tax liability.
Time-Saving: Tax preparation can be time-consuming, especially if you're not familiar with the process. By entrusting your taxes to our professionals, you free up valuable time to focus on what truly matters to you.
Avoiding Costly Mistakes: Filing taxes can be a complicated affair, and even a small error can lead to costly penalties. Our tax accountants are meticulous in their work, reducing the risk of errors and ensuring accurate tax returns.
Maximizing Deductions: Our experienced accountants know all the deductions you may be eligible for and can help you optimize your deductions, potentially leading to substantial savings.
Audit Support: In the unlikely event of an audit, having a personal tax accountant by your side provides peace of mind. They will guide you through the process, handle communication with tax authorities, and ensure your rights are protected.
How Our Personal Tax Accountants Work
When you choose our Maidenhead personal tax accountant services, you can expect a streamlined and customer-focused approach:
Initial Consultation
We begin by scheduling an initial consultation with you. During this meeting, we take the time to understand your financial situation, discuss your goals, and identify any specific challenges related to your taxes.
Thorough Analysis
Our team conducts a comprehensive analysis of your financial documents, including income statements, investment records, and expenses. This thorough examination helps us identify potential deductions and credits that apply to your unique situation.
Personalized Tax Planning
Based on our analysis, we create a personalized tax planning strategy to optimize your tax savings. Our aim is to ensure you pay only what is necessary and retain more of your hard-earned money.
Timely Filing
We understand the importance of meeting tax deadlines. Our accountants work diligently to prepare and file your tax returns accurately and promptly, so you never have to worry about missing deadlines or facing penalties.
Ongoing Support
Our commitment to you extends beyond tax season. We are available year-round to answer any questions, provide financial advice, and assist with tax-related concerns.
Why Choose Our Maidenhead Personal Tax Accountant Services
Experienced Professionals
Our team of personal tax accountants is highly experienced and well-versed in all aspects of personal taxation. With years of expertise, we have helped numerous clients achieve their financial goals and ease their tax burdens.
Personalized Approach
We understand that every client's financial situation is unique. That's why we tailor our services to fit your specific needs, ensuring you receive the most personalized and effective tax solutions.
Commitment to Excellence
Our dedication to excellence is evident in everything we do. From our meticulous attention to detail to our commitment to providing exceptional customer service, we go above and beyond to exceed your expectations.
Transparent Pricing
We believe in transparency, and our pricing is straightforward with no hidden fees. You'll know exactly what to expect, allowing you to make informed decisions about your finances.
Conclusion
Tax season no longer needs to be a source of stress and frustration. Our team of personal tax accountant in Maidenhead is ready to take the burden off your shoulders and provide you with expert tax services that will leave you smiling. With our experience, personalized approach, and commitment to excellence, we are confident that our services will not only meet but exceed your expectations. Say goodbye to tax hassles and hello to a brighter financial future with our Maidenhead personal tax accountant services. Contact us today to schedule your initial consultation and let us make your tax worries a thing of the past!