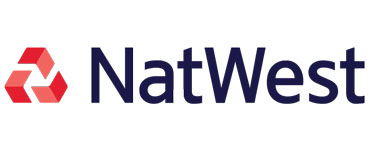 BUSINESS BANKING PARTNERS
At Asmat & Co we work with a number of banks to offer tailored business banking products and services suited to Sole Traders, Limited Companies, Contractors, Free Lancers, Partnerships, Trusts and Charities. We currently work with Natwest, Cash Plus and other Investment Banks. Our business banking partners work alongside Asmat & Co to integrate your company data and reconcile your accounts to ensure a proactive, fast and seamless service is maintained.
All of our partner's business banking services are fully compatible with Asmat & Co's bespoke online accounting Software, for keeping track of your business finances 24/7.
For Online application for Natwest Business Bank Account CLICK HERE
Opening a Business Account with Natwest will give a free Online portal service for you to access and maximise productivity and glance your Company's Financial Statements at a click of a button through your direct login from our Mobile/Tablet Application Glance with our online Asmat & Co Software free of charge (which otherwise is at a cost of £10.50 per month)
if they really do not want to do it online they can ring 03457114477
WHAT YOU NEED TO KNOW!
If you work for yourself, you'll already know the true meaning of the word busy. So when it comes to setting up a bank account, you don't want to spend long stretches of time dealing with the related paperwork. Asmat & Co will ensure we have you set up and running your own Limited Company with a company bank account within 24 hours. Providers such as Natwest or Cashplus can be set up in minutes with just a simple phone call, or over the internet if you prefer. The account can be applied for instantly online, with the Account Number and Sort Code being available at the end of the application process for successfully verified applicants.
Providers such as our banking business partners often offer free introductory periods meaning there will be are no monthly charges. If you open a business bank account with Natwest and Cashplus, there will be no account fees for the first 12 to 24 months depending on which bank you opt for
Our banking business partners work alongside us to integrate your company data and reconcile your accounts.
KEY BENEFITS OF OUR BANKING BUSINESS PARTNERS
Compatible with our Asmat & Co PORTAL
Quick & Easy Set Up
Simple Online Application
Instant online account decision
Real time transaction and balance information via mobile app or online servicing
Card purchases within the UK are free of charge
24/7 mobile and online account access
UK customer service
Visit: www.natwest.com/business
Ring 03457114477
Option 3 then option 1