Saving Money Just Got Easier: How an Income Tax Accountant in Maidenhead Can Help
Are you looking for ways to save money and optimize your tax returns? Hiring an income tax accountant in Maidenhead could be the solution you've been searching for. With their expertise and knowledge in tax laws, deductions, and credits, these professionals can make a significant impact on your financial situation. In this article, we will explore the benefits of hiring an income tax accountant in Maidenhead and how they can help you save money.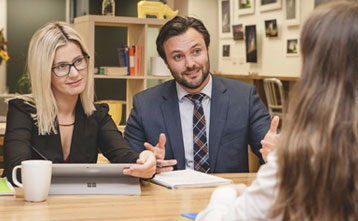 Understanding the Complex Tax Laws
Income tax laws can be complex and confusing, especially for individuals with limited knowledge of finance and accounting. An income tax accountant in Maidenhead has a deep understanding of the tax laws and stays updated with the latest changes in regulations. By hiring an expert, you can be confident that your tax returns will be prepared accurately, and you won't miss out on any potential deductions or credits.
Maximizing Deductions
One of the significant advantages of working with an income tax accountant is their ability to identify all possible deductions you may qualify for. They will review your financial situation and help you claim deductions that you might have overlooked. From business expenses to charitable donations, an income tax accountant will ensure that you take advantage of every eligible deduction, ultimately reducing your taxable income.
Optimizing Tax Credits
Tax credits are valuable as they directly reduce the amount of tax you owe. However, navigating the world of tax credits can be daunting. An income tax accountant in Maidenhead will assess your eligibility for various tax credits and help you apply for them correctly. Whether it's education credits, energy-efficient home improvements, or childcare expenses, they will make sure you get the most out of the available tax credits.
Avoiding Costly Mistakes
Filing your taxes inaccurately can lead to costly mistakes and potential penalties. By entrusting your tax preparation to a qualified income tax accountant, you can have peace of mind knowing that your returns will be error-free. They will carefully review all the documents and cross-check the information to ensure its accuracy before submission.
Planning for the Future
An income tax accountant does more than just preparing your annual tax returns. They can also provide valuable financial advice and help you plan for the future. Whether you are saving for retirement, considering investments, or starting a business, these professionals can guide you through the financial decisions that will impact your tax situation.
Handling Tax Audits
The thought of a tax audit can be intimidating, but with an income tax accountant by your side, you can face it confidently. If you get audited, your accountant will represent you before the tax authorities and handle all communications on your behalf. They will ensure that you have all the necessary documentation and information to satisfy the audit requirements.
Staying Organized
Maintaining financial records and staying organized throughout the year is essential for a smooth tax preparation process. An income tax accountant can assist you in setting up an efficient record-keeping system and help you stay on top of your financial responsibilities.
Timely Filing and Compliance
Tax deadlines can be stressful, and missing them can result in penalties and interest charges. When you have an income tax accountant, you can rest assured that your taxes will be filed on time, and all compliance requirements will be met promptly.
Peace of Mind
Perhaps the most significant benefit of hiring an income tax accountant in Maidenhead is the peace of mind they offer. Knowing that a qualified professional is handling your taxes and financial matters allows you to focus on other aspects of your life without unnecessary worry.
Long-Term Savings
The cost of hiring an income tax accountant is a small investment compared to the long-term savings they can help you achieve. By optimizing your tax returns and making smart financial decisions, you can potentially save much more money in the long run.
In conclusion, hiring an income tax accountant in Maidenhead can be a game-changer when it comes to saving money and optimizing your finances. From understanding complex tax laws to maximizing deductions and tax credits, these professionals play a crucial role in helping you achieve your financial goals. So why wait? Consult with an income tax accountant today and take control of your financial future. Your bank account will thank you for it!