Introduction to Income Tax Accountant in Maidenhead: Managing Your Wealth Wisely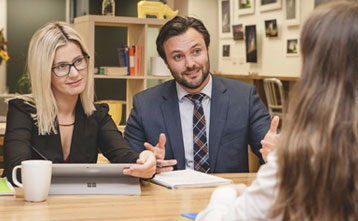 When it comes to managing your finances and ensuring your wealth is maximized, partnering with a skilled income tax accountant is a crucial step. In this comprehensive guide, we'll unveil the secrets of income tax management and highlight how Maidenhead's finest accountants can make a significant difference in optimizing your financial well-being.
Understanding Income Tax Management
Income tax management is the strategic process of efficiently handling your tax obligations while leveraging legal strategies to minimize your tax liability. It involves careful planning, calculation, and adherence to the ever-evolving tax regulations. A skilled income tax accountant acts as your financial ally, helping you navigate the complexities of tax laws and making informed decisions to preserve your wealth.
The Role of an Income Tax Accountant
An income tax accountant is not just a number-cruncher; they are financial experts who specialize in tax laws and regulations. Their expertise extends beyond tax season – they work throughout the year to ensure your financial strategies are aligned with your tax goals. From providing advice on deductible expenses to suggesting investment options with favorable tax implications, these professionals are dedicated to maximizing your wealth.
Key Services Offered by Maidenhead's Finest Accountants
Personalized Tax Planning: Maidenhead's finest income tax accountants understand that every individual's financial situation is unique. They tailor tax planning strategies that align with your short-term and long-term financial objectives.
Tax Compliance: Staying compliant with the intricate tax laws can be overwhelming. Professional accountants ensure accurate and timely submission of your tax returns, avoiding penalties and legal complications.
Wealth Optimization: Beyond basic tax compliance, skilled accountants focus on wealth optimization. They identify opportunities to reduce your tax burden and increase your overall financial growth.
Estate and Inheritance Tax: Navigating estate and inheritance tax requires specialized knowledge. Expert accountants provide guidance on structuring your assets to minimize tax liabilities for your heirs.
Business Tax Strategies: For business owners, tax implications are intertwined with operational decisions. Accountants in Maidenhead offer insights into business structures, deductions, and credits that can lead to substantial tax savings.
Advantages of Collaborating with Maidenhead's Income Tax Experts
Partnering with Maidenhead's finest income tax accountants offers several advantages that can contribute to your financial success:
Expertise: These professionals possess in-depth knowledge of tax laws, ensuring you capitalize on available deductions and credits.
Time Savings: Tax-related tasks can be time-consuming and intricate. Entrusting these responsibilities to experts allows you to focus on your core pursuits.
Risk Mitigation: Mistakes on tax returns can lead to penalties. Accountants minimize this risk by accurately preparing and reviewing your documents.
Holistic Financial Approach: The guidance provided extends beyond taxes. Accountants help you see the bigger financial picture and make well-informed decisions.
Long-Term Planning: Maidenhead's income tax accountants assist with long-term financial planning, helping you achieve your financial milestones while staying tax-efficient.
Conclusion
In conclusion, the world of income tax management is multifaceted and intricate. Entrusting your financial well-being to Maidenhead's finest income tax accountants can provide you with the peace of mind and confidence that your tax matters are in capable hands. By leveraging their expertise, you not only navigate the complexities of tax regulations but also pave the way for a brighter financial future. Remember, managing your wealth wisely today can lead to a more prosperous tomorrow.